Want to ride with family and friends? You rent up to four bikes on one account through the app. You can also rent up to two bikes only at a kiosk. To rent more than two bikes, another credit card will need to be used. 
Group rides allow members to purchase up to four 30-minute Single Rides for just $2.95 each (and $4 for each additional 30 minutes) directly from the Bluebikes app. Tap the "Group Ride" icon on the map: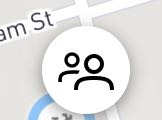 Then, simply select the number of guests, the station you want to rent from, and tap "Purchase" to complete the order. You'll be given a ride code to unlock your bike(s). The same ride code is used for all guests.